To celebrate Ben's 30th birthday, he wanted a "challenge" and with came up with the idea of a 200+ mile ride around our county, and invited anyone from the team to join in. I ignored it for a while because it doesn't really fit into my training, but decided on a whim at the last moment to do it. I've done it before as a 2-day ride (there is a motel conveniently located near the halfway point in New Cuyama) and always wanted to do it in one day. I figured the chance of any of these guys (or anyone else) being willing to do this again anytime soon was slim to none, and I would always regret it if I missed out.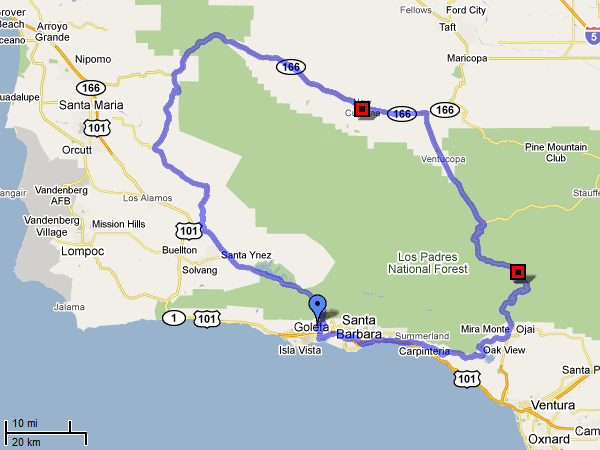 The whole thing took me 13 3/4 hours, door-to-door. All said and done, it was just about 209 miles, with a little over 12,000 feet of climbing. 11 3/4 hours riding time, for a moving speed of 17.7mph. I burned about 7200kJ (roughly equivalent to calories), and consumed maybe 3500.
§
In the training plan Aaron made for me, "3-4hrs Group ride (Simi Valley), ride is very hard, you will like it."
Conclusion: Ride was very hard but not quite as much as I was expecting—I guess they really up the intensity in January.
I started with a warmup up the Santa Susana Pass with some random riders that were passing by my car as I got ready. I watched the group get larger and larger, including Aaron and Randy. There were well over 150 people. Dare I guess 200?
I just got gapped by the leaders over the top of the Norwegian grade but caught back on, except for Aaron and apparently only a few others who had rode away from everyone else. I leapfrogged group by group until I caught the chase group as they crested.
About halfway up Potrero I was still with the lead group (well, the chase group, because remember Aaron was still off the front) but felt I was about to blow, and I backed off and "let" them go. After a few moments to recover, a few guys caught up with me from behind… I paced off one of them briefly, then took off after the the others. After the descent, a handful of us got into a rotation and chased down the group ahead. We picked up a few others as we blazed through Hidden Valley and caught the group.
The ride to Kanan was fairly casual, and the pace picked up on Cornell on the way to Mulholland. Unfortunately, when we made the left turn, the rider in front of me dropped his chain and lost momentum, and I nicked him and went down. Gently, not hurt, but the handful of seconds it took to get going again I went from the front group to the back. The chase took a lot out of me and I may not have made it back to the lead group if not for the light at Las Virgenes.
By the time we reached "Seven Minute Hill" I was pretty spent and didn't feel like killing myself to stay with the animals at the front. I just settled into a steady sustainable effort and cruised up. I'm not sure where the "hill" is measured from, but the actual climb took me just a hair over 7 minutes. Maybe a tiny bit more if it includes the near flat part at the crest.
§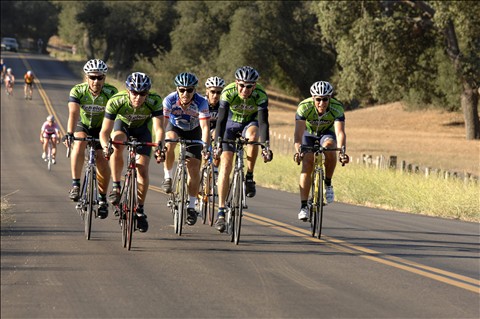 One of my goals has been to do a century in under 5 hours. I had never attempted it, it was just something to try to do some day. I can easily do under 6, and do it regularly. Even solo. With lots of climbing.
Enter the Windmill Century. Local. Flat. There were rumblings from a good number of other Echelon members about going up there and making a day of it. That sounded like a recipie for a fast ride.
"If we get enough people we could get a good paceline going and try to do it under 5 hours."
After the dust settled from the flurry of emails and message board postings, it appeared that I was going to drive up with Bill Lupo, Steve Nelson, and Mark Luke early in the morning. Denise and Ed were driving up on their own, as was Fran, Jurij, and several others.
Meeting at 6 at Steve's meant leaving my house at 5:45, which meant waking up at 4:30, to give myself time to eat and clean the bike. I hadn't thought about it earlier, but upon waking up realized that it was dark. Duh. I hoped it would be light enough by the time I had to leave, and fortunately it was. The drive up was uneventful, save for a few minutes of passing through a random fog bank that covered Buelton. Arriving in Los Alamos, I saw Jurij at his van as we...
§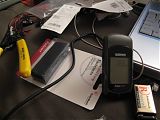 The story starts, nominally, on Thursday—I decided that the Energizer battery charger I had bought for the Solvang Double just didn't cut it and decided to build my own using the instructions here. I picked up the parts at Radio Shack, but they gave me the wrong kind of cable and I didn't realize it until after I cut it! Fortunately I have tons of the proper USB cable and was able to finish the charger.
Friday, as I've posted, I was sick. Sick, sick, sick. I left for work feeling a bit off, and by the time I was about halfway there I felt so bad I could hardly turn the pedals over. When I got to work I had never felt so happy to get off my bike in my life! I somehow managed to lug my bike up to my office and proceeded to sleep on my couch for nearly the rest of the day, with a few breaks for work and one to throw up. I felt much better after that, and became 99% convinced that it was food poisoning. Eventually I felt well enough to limp home but didn't think I would be able to ride 200 miles on...
§
I ended up doing the Grand Tour Highland after all. Friday evening Kim told me she wasn't going to let me give up so easily, and Saturday morning I felt better so we left at 4:15 and drove down to Malibu. I started around 6:15, and after being caught 10 miles out, rode most of the way with Eric Ostendorff . I probably would have been faster had I not had a nasty stomach cramp for the last 120 miles or so, and the whole being sick yesterday thing…
MotionBased Data
Total Time (h:m:s) 13:28:35
Moving Time (h:m:s) 11:07:47
Distance (mi ) 199.09
Moving Speed (mph) 17.9 avg. 42.7 max.
Elevation Gain (ft) +10,714
§
As if my story wasn't long enough already, I forgot to mention that my cell phone started running "low" on power somwhere along the 33 and went into its oh-so-annoying BEE-BOOP mode, which you can't silence, no matter what the settings. I put low in "quotes" because even when it shows 0 bars it usually lasts for most of the day, so its a little frustrating to say the least. Mondo asked me to turn it off, which I did (after a while), but then turned it back on to try to make a call (still no reception…) and forgot to turn it off again. When we stopped briefly in Ojai, he said (jokingly, I assume), "if you don't turn that off I'm going to reach in your pocket and throw it out." I turned it off.
Also, I got this from Scott:
Sherrie and I just finished reading the Echelon newsletter and particularly enjoyed your recount of the County Ride. The recumbent rider you saw as you passed the Lake Casitas entrance was Mark Tokar, Carol Tokar's husband. Sherrie and Carol ride together quite a bit. Carol, Mark, Fran, Sherrie and I were finishing the Santa Paula loop with Mark pulling out from the Lake a few minutes ahead of us (he doesn't climb as fast on the recumbent). So, your group passed by the Lake entrance after Mark but a few minutes before we left the Lake (I got a little busy visiting with a family of three cyclists,...
§
Day 1
5:00 am. My alarm goes off and I start getting ready. Kimberly wanted to sleep in and meet us later, so I was to ride in with whatever clothes and food I needed for the first day. That meant street clothes to change into, and post—ride food and drink. I prep my bike, pack my backpack and make my sandwiches. I wanted to leave at 6:45 so that I could get there a few minutes before 7:15 without having to rush. I take care of some other stuff and leave a note for her. Of course things always take longer than expected and I didn't leave until almost 7:00. If I hurried I could still get there a few minutes early.
I arrived at Peet's about 7:10 and nobody was there except Damon. I should have expected as much, I don't know why I always rush to these things. And I thought we were leaving at 7:15, so I actually thought I was going to be late. I don't think the next person arrived until at least 7:20. The start was supposed to be 7:30 sharp, but everybody getting ready, loading up, taking pictures, etc., of course we were destined to start late. Of course, just before we left I started to feel like I had to go to the bathroom, but figured I would be fine to wait until Fess Parker Winery where we were going to stop for lunch. We finally rolled out around 7:50.
The climb up Old...
§
And now the second part to my ride report for the Solvang Double Century last Saturday. Been busy; rode to Ventura and back (85mi) for my "recovery" ride instead of sitting inside typing, then got lazy and hey, I forgot ok? I'm currently at my in-laws, watching the Formula One race from Malaysia.
Read part I
Rewind: Before I continue on with the story, I'm going to back up a bit and start with Friday evening. So Friday I didn't ride at all so I could rest up… Oh wait that's not me, I rode up Ortega Ridge with Eric before my afternoon appointment downtown, then after did some last minute shopping for supplies. I wanted a frame pump, a new tail light and some other incidental supplies. Luke at FasTrack gave me a hard time about the pump but reluctantly sold it to me. I was also considering a new headlight but didn't like any of the ones they had there. Next at Bob's on upper State I looked at their lights but decided to just use the one I already had. Finally to Circuit City to pick up a USB charger for my GPS. By the time we fueled up ourselves at Starbucks and the car at the nearby gas station, it was after 7. I was worried that Damon had left much earlier and was waiting up in Solvang for us for a long time. My worries were allayed when I called him...
§
Food:
5 Clif Bars
2 Oreos
2 Cans of FRS
2 Cans of V8
1 Banana
1 Subway Sandwich
1 Cup of Noodles
1 Orange Soda
1 chocolate shake
1/2 PB&J Sandwich
...and a lot of Hammer Gel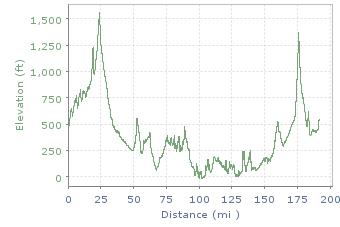 Edge Data:
view on MotionBased
Total Time: 11:42:34
Moving Time: 9:53:20
Distance: 191.67mi
Moving Speed: 19.4mph
Elevation Gain: 8,969ft (note that the unit reported just over 7000ft but was it was inflated during import?)
Polar Data:
Average HR: 144
Max HR: 175
Total time: 10 hours
Zone 1 (50%-55%): 0:04:20
Zone 2 (56%-69%): 2:08:51
Zone 3 (70%-79%): 4:49:22
Zone 4 (80%-89%): 2:55:49
Zone 5 (90%-99%): 0:02:42
Calories burned: 8,184
Results are now online at PlanetUltra
I realized in the hotel Friday night that I had forgotten my light at home so I decided to leave earlier, at first light, just to be sure I didn't get caught out in the dark. I was figuring it would take 12 hours and a 7:30am start would be cutting it close.
The Road...
§