This prototype Saturn power meter on my Specialized carbon cranks with Stronglight chainrings brings my bike's weight down to 13.6 pounds, taking about 3/4 pound (333g) off the previous S900 incarnation (partially due to the BB adapter) and another ounce from finally trimming my steerer tube. I went with gold chainring bolts to match my gold chain, and Fairwheel bikes was out of red…
§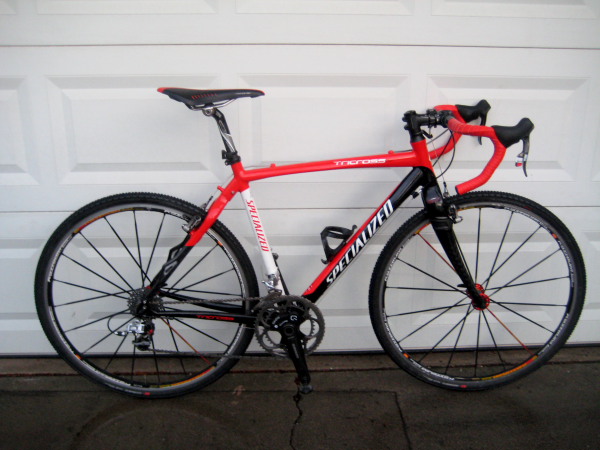 It's 19lbs dripping wet. I finally got it built, just in time to ride in the rain for a SST workout today. I was amazed that I was getting similar speeds for a given power despite a) the tires, b) the extra weight, and c) the wet conditions. The bike felt very nice but I've never ridden a bike with such different geometry before and the stability was really strange. It resited turning into corners; I had to really fight it at times.
I'll see how my collarbone is doing at a checkup on Monday, and if its looking good I may try a cross race this season after all.
§
§
I stopped at FasTrack after work today to get a new stem, and while I was there, we weighed the bike. As pictured yesterday, it came in at 14 pounds, 1 oz. Dave said it was the lightest bike he's weighed this week, edging out Blingerman's by over half a pound, and his own new Madone by nearly a pound.
We swapped out the ugly aluminium S-Works stem for a beautiful Ritchey WCS Carbon 4AXIS, saving about 30 grams. Also cut the steerer down some more, and dropped off a spacer. In a few minutes, I'm putting the swapping the Ti Speedplays from the TCR, easily bringing the whole thing under 14 in race trim.
I did cheat maybe a little… I removed the Garmin, but the mount was still there…
§
§
I finally got the new Tarmac SL build up last week, tightened everything down over the weekend and taped the bars this morning. Today I took it for its first real ride and I have to say, its very nice. The cliche review phrase "laterally stiff and vertically compliant" came to mind, as well as "soaks up road vibration". It was a very comfortable ride but still very aggressive on fast corners, and the weight (or lack thereof) was noticable when rocking the bike in out of-the-saddle efforts. Below is the bike at Mothballs (I didn't race it but brought it along to play with), before wrapping the bars and with my heavier Ksyrium ES wheels & SS skewers. As pictured, we weighed it (on the scale TnA conveniently had in his truck) at 14lbs, 15oz, but the I weighed the R-SYS wheelset out at about half a pound lighter (using Ti skewers).
§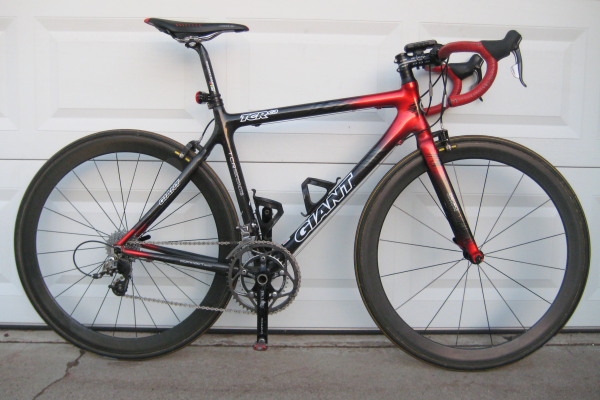 I got the DV46 set delivered yesterday and rode them this morning. I took minutes off my PR for the 22 mile, 1400ft ride. Total time was 1:09 vs. 1:12 previously. It is pretty much split in two distinct sections, first a hilly/rolling back section, a fast longish descent, then mostly flat city roads. I was pretty much on par for time on the first part, as the wheels are comprable to my R-SYS in weight and stiffness. Once I hit the descent and flats, I was able to easily hold speeds several mph faster than usual. They were much quicker to accelerate from a stop and much easier to keep the speed up. And all this was all with a lower average/max hr (155/180 vs. 159/182).
At lunch I rode the Mothballs course and pulled out a few 26mph laps, and even many of the "easy" laps were over 20mph. I can't wait to use them at the race on Saturday. The ride out to the course, a whole bunch of laps, and then cruising back to the office was at an average of 20mph.
Of course they look cool too, and they make that whooshing noise when I start to go faster…
§
§
I picked up a new set of Zero Gravity brakes the other night; now I have everything except a front derailer (which is on the way) to build up my new Tarmac. The whole thing will be about 14.5lbs and with race tubulars it should be under 14.
§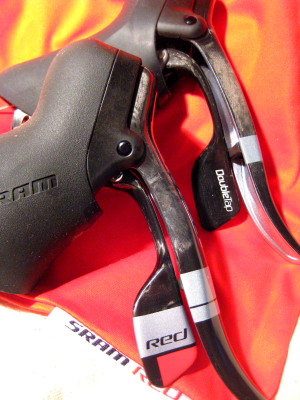 §