I was shopping at Vons today, and heard an announcement over the loudspeaker: "It's almost that time again. We've placed numbers around the store at eye level. Find one, and when we call out the number, the person by it wins a free bakery item." I couldn't find any number, as I was looking at the shelves in the frozen section while shopping. They call out number seven. Then a bakery worker comes down the aisle towards me with a cake. I still didn't see the number, while frantically looking around for it. Then another shopper walks up. The bakery worker asked if I was waiting for the cake. I said "yes, but…" The other shopper was disappointed. I then finally spotted the number, on the door, not on the shelves! I said the other shopper could have it, but then he said I could have it. We got into a reverse fight over it. I then said we could split it. The bakery worker took it over to cut it, but decided to give each of us a whole cake instead! Now Steve and I have this whole big chocolate cake and only us to eat it!
§
§
Posted in Food
I had an idea a few days ago that I would make some "thanksgiving sushi", where I would use all of the traditional thanksgiving foods as filling in a sushi-style wrap instead of the usual seaweed, fish & rice. I picked up some soy wrap yesterday and sat at the table at dinner and made my wrap while my curious family looked on. Turkey, stuffing, sweet potato, cranberry sauce, and green beans. The finished product seemed to be popular and it was eaten up fast. After it was gone I made another wrap with rice some rice added for good measure.
§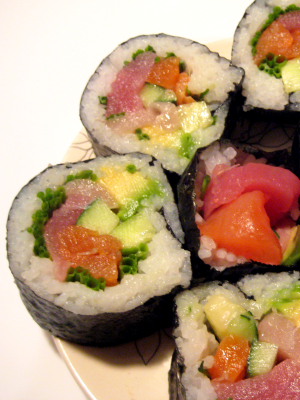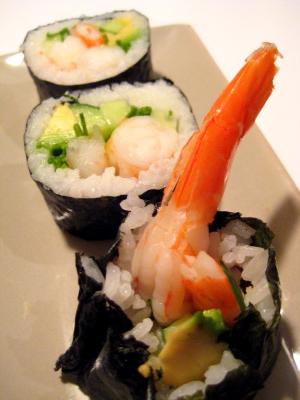 §
Look Marco, I can grow stuff too! They may be small but they are pretty good for growing on my windowsill in my office :)
These tomatos are from the plant I started growing back in January
§
Posted in Food
I made sushi again this afternoon, after my 100 mile ride around Lake Casitas. This time I used proper Nori sheets and prepared rice with rice vinegar. I think I used a little too much vinegar, but otherwise they are very good.
§
I got something at Gelson's a while back that claimed to be sushi wraps, with the rice and the seaweed sheets, just add filling. I had also gotten a sushi "kit" at Borders that included the little mat, plates, chopsticks, and a book, but none of the food. I was in Gelson's again last night, and had just picked up some prepared sushi, when I saw some nori sheets and it reminded me about making my own with the kit. I was about to pick them up but figured I should use the stuff I already had first. It turns out that the sheets were litty itty bitty things that you were supposed to make individual bite-sized wraps out of, instead of one big roll that you cut. so I tried to put a bunch together but it didn't hold very well. I wish I had taken a picture, but I ate it for lunch…
§
I've had a pretty bad migraine for the last few days. It started on Saturday at Baker to Death Valley while Steve was finishing. It wasn't very hot, but it was very dry. I think I didn't drink enough water, bright sun, travel, fatigue, hormones, etc., and the stars were all aligned correctly to produce a migraine. I started to feel pretty bad on the drive back to Baker, but we stopped at a cafe in Shoshone and got Gardenburgers, and I felt a lot better after that.
I felt ok Sunday, but I started to feel bad again Monday morning. I got some new injections for my headaches, so I tried it out, and it worked quite well. It works by increasing serotonin levels, which is believed to either cause or otherwise be strongly related to migraines. I took it again last night after it came back with a vengance. I read my book in bed while the meds kicked in. Steve was sleeping, and woke up about an hour and a half after I took the meds. He asked how I was doing, and I enthusiastically said 'Great!'
My migraine started to come back again this afternoon, so I picked up my perscription and hung out at Steve's office while it kicked in. My stomach was still not feeling too good, and I told Steve I needed some carbs for my stomach. He said we had plenty of carbs at home, and I said we didn't have...
§
The Steve diet has been working pretty well for me. I've lost a lot of the weight I put on after I had my tumor out & I started getting bad migraines. (Not necessarily related, but who really knows.) I stopped exercising and ate a lot of crap food to appease my migraine stomach. (Did you know that the gut has brain tissue of it's own?)
I'm taking meds to help prevent migraines, but I still get them pretty bad. I'm still not 'race-ready' as I haven't been on the bike for weeks. So I didn't do Mothballs. But I think I'll do Cantua Creek when I go out with Steve.
§
I ran into Dr. Kim on campus during my ride into work this morning. Almost literally—I was nearly squeezed into her as I approached by another cyclist coming from the other direction. I was on pace for a PR or I would have slowed down to chat. Its hard to go very fast through the campus with all the other slow riders, tight corners and broken pavement, and she was still with me at the road crossing out of campus. I pushed really hard for the last leg on the path from Goleta Beach, keeping my speed around 22-23mph the entire way (about 2 miles). I finished the 14 mile course with a road bike PR of 39:19 (21.5mph), over 40 seconds faster than my previous PR of 40:01 (21.1mph), and only 20 seconds slower than my TT bike PR of 38:57 (21.7mph).
As I was catching my breath and getting ready to carry my bike up to my office, Dr. Kim came up the bike path and asked if I got it. We talked for a few minutes before taking off to do repeats on OSM. "I expect you to blog about this" she said as she left…
I got a similar comment from Steve Nelson after Monday's time trial. This was the month that coincides with Semana Nautica, and the time trial was both part of that series and the normal DMI monday night series. But for Semana Nautica, they gave age group...
§