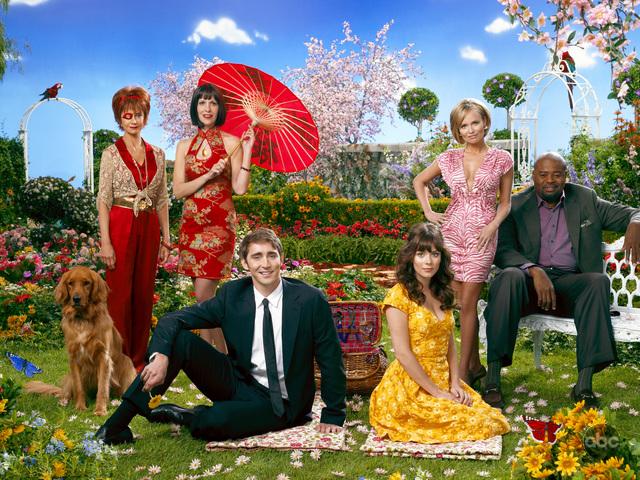 I don't watch a whole lot of TV these days, on account of all of the biking and stuff. As such I don't "pick up" many new shows but I was looking forward to one this season—Bionic Woman. However, there was a different show that took me completely by surprise, and I wouldn't have even known about it except for a complicated sequence of events. Pushing Daisies. It has a very surreal quality to it and anyone who really knows me knows that I like things surreal. I'll be watching this show… and Bionic Woman too.
In other entertainment news, Cavemen is increadibly stupid but Carpoolers looks pretty funny so far, although I don't know how long they will be able to run with the premise.
§
Kim likes to watch a show called "Are You Smarter Than a Fifth Grader?" It is a game show hosted by Mr. Redneck Jeff Foxworthy where contestants answer grade-school questions and there are fifth graders there that the contestants can "cheat" off of. Its a silly premise but somewhat interesting to watch how stupid some people can be. But I just had to blog about the question we just saw, which was 4th grade "algebra". If y = 3x and 3x = 12, what is the value of y. A nice trick question and the contestant fell for it ans guessed 4. She actually dropped out rather than have to answer it, but said she would have guessed 4. 4!
Now the next contestant is doing 4th grade math, and the question is "if the diameter of a circle is 4, what is the radius?" The contestant had to use her "peek" cheat! Its like watching a trainwreck
§
Feb 12, 08:41 AM by Steve | 42
That was my heart rate this morning while I was watching last night's Apprentice LA. Either the show was that boring, or its a good sign of my improving health. Or both.
Update: In my inbox this morning I found out what happened to Scott…
I didn't hear anything about a planned ride either. Sherrie and I rolled down the driveway at about 1230p, a late start today. We did the lake loop and saw two pro teams during the ride, Gerolsteiner on their way back up the coast near Emma Wood beach and Credit Agricole (2 riders) and 1 other rider with them that looked like he was from Robobank. They were descending 150 just below the top of Bates / Rincon road. Four straight rides I've seen pro riders this week (we saw Gerolsteiner in Carp yesterday also)!
So It appears that Damon and I were about 3 hours ahead of them (I picked Damon up in Carp around 9:30). I'm not sure really what team was with 2 Credit Agricole riders when we saw them; Damon thought they were Kodak but I didn't get a good enough look myself.
§