§
I guess I've been getting a bit of reputation as a magical fixer of corrupted TCX files. If this doesn't mean anything to you, then don't worry. This is all because the new firmware for the Garmin Edge 705 is not writing it's data files correctly in some circumstances. Fortunately the nature of the TCX file format makes the bad files easy to fix if you understand XML. Unfortunately although it is possible to make the files readable again, there is usually some (or a lot) of data lost.
I can't really explain XML here but the basic idea is that it consists of nodes enclosed in pairs of opening and closing tags. Every opening tag must have a matching closing tag. Every data sample in the file is a node called a trackpoint. For example:
<Trackpoint> <Time>2009-05-31T14:57:58Z</Time> <Position><LatitudeDegrees>42.290926</LatitudeDegrees><LongitudeDegrees>-71.389760</LongitudeDegrees></Position> <AltitudeMeters>61.804</AltitudeMeters> <DistanceMeters>92.244</DistanceMeters> <HeartRateBpm><Value>94</Value></HeartRateBpm> <Cadence>4</Cadence> <SensorState>Present</SensorState> <Extensions><TPX xmlns="http://www.garmin.com/xmlschemas/ActivityExtension/v2"><Watts>26</Watts></TPX></Extensions> </Trackpoint>
So the basic building block of the TCX file is the Trackpoint, but there is a hierarchy to the file. One or more Trackpoint nodes are enclosed in a Track node and, one or more Track nodes make up a Lap node. A new track is created whenever the unit auto-pauses. Finally, at the top level, an Activity node contains one or more Lap nodes. There is only one Activity per file.
When the corruption happens, there is typically a trackpoint that has failed to write correctly and then the rest of the track is missing until the next track or lap starts. Because there is no matching closing trackpoint, track,...
§
Mon: 75' Active Recovery
Tue: 4 hrs ROCO ride + Hammerfest
Wed: 30' SST; Hope Ranch Suffervals; Evening crit practice
Thu: 60' Friel Pacing Workout, OSM Tempo climb, 2hr evening group
Fri: 15' Commute only
Sat: 3.5 hrs Echelon ride + extra
Sun: 2.75 hrs "Worlds"; 3 hrs Easy (.4 IF) with Kim
Total: 21.25 hrs, 384 miles, 1169 TSS, 12,650kJ
Interestingly this is my second big volume week so far this season, and I feel nowhere near as whiped at the end of it as I did two weeks ago. Although I was fairly fatigued by the end of Thursday evening and could not get my HR within 5 beats of LT no matter how hard I tried to push. By Sunday I felt like my form is finally starting to come back around, finished with the lead group on Bates and even got a few positive comments. In the afternoon I spun out my legs and took Kim out to the Padaro Beach Grill like we used to do to shakedown her new Transition. Note the trick Garmin mounting that was inspired by Garmin-Slipstream.
§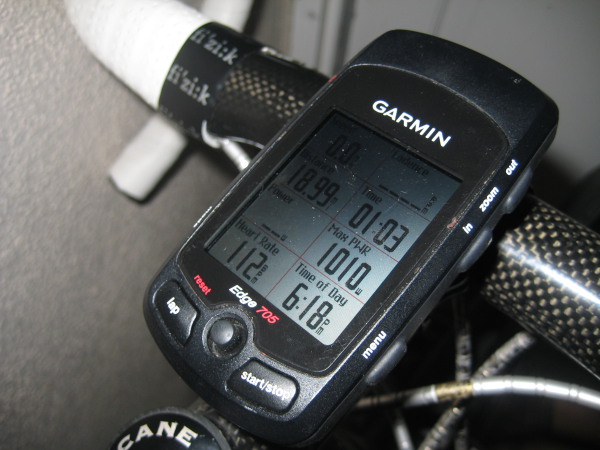 It's been a goal of mine for a while, since I got a power meter, to register "4 digits" on the stupid thing. Of course the first thing I did when I got it was go out and do a sprint and didn't even break 800. A few more tries and I think I got in the high 800s. I was given some hope when I realized mine was reading low, but even after I got a new one I was still never able to break the low 900s.
I've suspected it's more of a neuromuscular/technique issue rather than strength because I feel really uncoordinated, like I'm flopping all around and wasting a lot of energy, and I think I'm holding back a bit because I feel like I'm going to throw myself off the bike. The broken collarbone doesn't help matters, although at this point I don't realy feel it anymore.
So yesterday I coincidentally ran into John on the bike path going the other way, so I turned around and caught up with him. After a while of half-wheeling and seeing how hard we could push our wheelsucker before he blew up, we had both gone a little harder and further than either of us had intended. We ended up at the beach on Cabrillo and feeling warmed up and with the whole road open in front of us I decided do do a little sprint. I gave him about 2 seconds warning...
§
I did Old San Marcos today in 17:26, beating by far my previous PR of 18:03. I wasn't sure how I felt today and didn't really start out with the intention of trying for a PR, but Marco paced me up and encouraged me not to back off when I thought I was going to blow 2/3 of the way up. We were on pace for 17 flat, but did ease up a bit in the switchbacks. Nearing the end he said to dip into my anaerobic tanks. I thought I had nothing left but was able to pick it up and finish strong. I didn't know exactly what my time was until I added up the splits, but it had to be fast. Marco confirmed that he got 17:25 so I figured mine had to be close to that. You can see from the chart I was redlined for most of it…
§
So I took last week easy in an effort to recover as much as possible for the Sisquoc Road Race. I haven't done a road race since San Luis Rey 3 months ago, and have been dealing with low/inconsistent energy levels for a few weeks.
Thursday instead of hammering up OSM with the noon group, I took it easy a few minutes behind them, targeting (and almost exactly hitting) 23 minutes, a very comfortable pace. In the evening I did my Bella Vista group ride and had a pretty good sized group; I think its finally catching on. There was one guy Scott picked up on his way to Alamar that tried to hang with us, but the pace was too high for him and he was gone before Skofield Park.
Friday was to be a recovery day, with no hard efforts. The smoke from the Zaca fire pretty much forced the issue, spewing ash all over the place and generally making it unpleasant to be outside. I rode my usual route to work in the morning several minutes slower than what I would usually consider an easy pace, skipped a lunch ride, then rode downtown to visit Kim after work. That was interesting—I had to breath through my nose, which in turn helped me to keep the effort level down. As an interesting experiment, I noticed that my max HR breathing through my nose was right around 130. Any higher than that and I wanted to open my mouth!...
§
I log my rides on BikeJournal.com as the So Cal BikeForums club to hel pwith their rankings. Ok, and to show off a bit. I don't log all of my rides individually because that would be a pain, so at the end of each week when I put together my weekly summary for my blog, I go online and update my journal. Today I was greeted by this. I had to take a screenshot of it, because I don't know how long it will last:
Note that the orange cyclist icon means that rider's journal has not been updated for 3 days, and the red circle/slash means no updates in 2 weeks. I'm assuming that after riding 10,000 miles, this person didn't just suddenly stop riding cold-turkey, so I'll probably lose the placing when they update…
§
This I think was the least number of miles I've put in for a week in a while. I've been focusing more on intensity and recovery—riding hard with faster riders on real "training rides" and taking more time off the bike, or keeping the effort lower on recovery rides. Its hard to tell how its working so far. Note that my HR zones are skewed pretty far to the left again, but my I spent nearly twice as along in zone 5 compared to last week!
The rides of the week were largely forgetful. Of note was two consecutive days up OSM (1, 2) under 19 minutes, which is a pretty nice accomplishment. I tried the Tuesday lunchtime paceline training ride, but my computer fell off before the the start and by the time I realized and doubled back to get it, I missed out on most of the action. I got back into the group on their way back at least. Thursday evening I had a hard time keeping up with Bill and Scott on my Bella Vista ride, so I took Friday very easy and cut out Farren at lunch.
Saturday I got a late start because I was watching the TdF time trial, so I headed out along Hollister instead of Foothill, figuring worst case we would catch the group on Modoc and turn around to follow. Of course we were among the first at the Daily Grind and the ride started...
§
I'm a little behind on my blogging. Last week was a steady progression of increased performance and decreased fatigue, culminating in a fast century on Saturday and an improvement at Worlds on Sunday. Note that the distribution of my HR zones is becoming more normalized, skewing less toward the lower zones than it had been.
Polar Data
Total time: 24.1 hours
Below 50%: 1:34:51
Zone 1 (50%-55%): 1:35:34
Zone 2 (56%-69%): 7:54:29
Zone 3 (70%-79%): 8:27:33
Zone 4 (80%-89%): 4:23:03
Zone 5 (90%-99%): 0:13:21
Calories burned: 16,991
Edge Data
Total: 410.16 miles, 23.4 hours, 22,061 feet
Average (all days): 58.59 miles, 3.3 hours, 3,152 feet
Average (work days): 51.72 miles, 3.1 hours, 3,153 feet
Best ride(s): 4:49 Windmill Century
Worst ride(s): Aborting OSM on Thursday because of a flat tire
§
Today I did the local ride known as "Sunday Worlds"
East Beach Bathhouse: 35 mile loop to Rincon. The start is usually late by a few minutes but the pace more than makes up for it. The pack is heavy with the town's elite racers. Also sometimes referred to as the Sunday World Championships by the locals.
I've been afraid to do this ride for some time, and have therefore always avoided it, chosing to do other rides on Sundays instead. Chester and I started talking about doing it together, and I made a deal with him yesterday that I would do it if he came out to Ventura with me. After an epic 124 mile ride, we were thinking that we may have pushed to hard to try the worlds ride for the first time, but decided to go ahead and go for it anyway.
I knew that the ride always started late, but decided to show up promptly anyway. Chester came a minute later and riders began to filter in. There were some lighthearted moments, including Gary swapping socks and sunglasses with other riders to complete his pink ensemble. We rolled out around 9:15 and warmed up through Montecito and Summerland. Once on the 192 the pace picked up considerably and I found myself hanging on at the back, cruising much of the time over 30. The pace wasn't too bad but the surging was difficult to deal with. When the group turned onto Gobernador, I stayed on 192 with...
§