The clavicle (collar bone) is definitely broken. Doc said it is overlapped 4cm, and I need to have surgery to "fix" it. In other news, she looked at my ribs on the xray and said they appear fine.
§
My name is Steve, and I have a problem…
§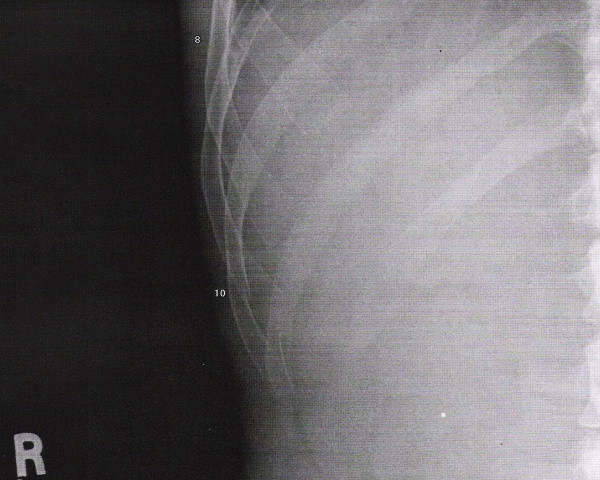 Some of you may have heard, either through the grapevine or emails or bikeforums that I was hit by a car yesterday morning. The all-too-common right hook. I didn't feel too bad at the time and after getting the woman's information I continued on to work. Throughout the day I felt progressively worse and evntually called Kim to come and get me and take me to the ER. After a lot of waiting, poking, prodding, peeing and scanning, my prognosis was that I had 2 or 3 broken ribs. You can see one of them (marked #10) pretty clearly in the x-ray. The other one (#8) is hard to make out in this scan of the printout.
§
§
Imagine my surprise when I was accelerating out of a turn on Sunday Worlds and my foot didn't stop at the bottom of the pedal stroke, and instead it hit the ground. It took me a moment to realize what happened—I thought my shoe somehow came unclipped at first. But when I look down, I didn't see the pedal. I look around and find it, still attached to my foot. With a little bit of crankarm attached to that.
So I signaled and moved out of the group and coasted to a stop in front of Carpinteria High School. Took a moment to assess the situation and called home. I think it went something like this:
Hi honey, I need you to pick me up.
Where are you?
Carpinteria
What happened?
Crankarm broke
Oh
So I gave her directions and watched the Carpinteria Triathlon unfold in front of me. For some bizzare reason, people coming by, in a race, felt compelled to ask if I was okay and had everything I needed. I thought that was funny. You are in a race people!
After about an hour wait, Kim came and got me and drove me back into town. We hung out at Northstar until it was nearly noon then dropped in on Dave at FasTrack. He supplied me with a spare crankarm for the time being and is going to sent that one back to TruVativ for warranty replacement. He had never seen one break like that before (keep in...
§
Feeling like…. I got hit by a car…
But seriously, I feel pretty good, ankle hurts when I walk but not on the bike. Knee hurts on the bike, but not so much when I walk. Funny that. I bought some new wheels. Kim didn't think we needed 3 sets of Ksyriums (I'm going to have the other 2 sets rebuilt) so I got the new Mavic R-SYS. Carbon spokes, about 1/4lb lighter than my Ksyriums, very cool.
§
More analysis tomorrow, here's the rundown…
I got a PR in the time trial, but was still dissappointed because I didn't break 25 minutes. I was so close.
I was hit by a car after riding to the Echelon board meeting at Los Gallos. I was travelling eastbound on Cathedral Oaks and the car that hit me was travelling westbound, turning left onto Ribera.
There were lots of witnesses, including Scott who I was riding with.
I was able to get up (with help) and walk around. Ankles and knees sore, neck stiff.
Bike toast. Good thing it was my TT bike and not my everyday bike. Unfortunately my wheels are also messed up. My new wheels. From the last accident.
I was given the option by the fire department to go to the hospital or not. I declined initially but was convinced otherwise.
The guy that hit me was old. Scott said he could see that the guy didn't even look before he turned. Scott saw the car a split second before I did and was able to stop in time. I tried to evade but got clipped.
In my absence, everyone elected me President. Thanks guys…
We will see how I feel tomorrow. Right now my heel hurts when I walk but thats the worst of it. My experience with this sort of thing tells me that won't affect me too much on the bike. My knee is still a little sore so I'm hoping it won't sideline me for Everest.
§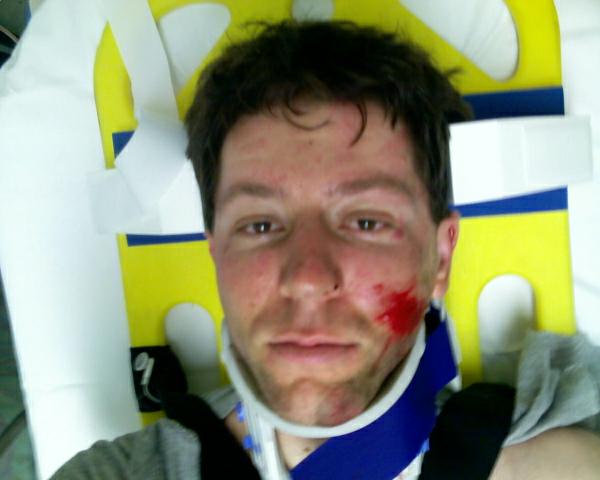 §
Mavic Ksyrium ES wheelset … $1,000
SRAM Force group … $705
Bontrager Bars … $65
Ritchey WCS 4AXIS Stem … $85
Ritchey WCS Carbon Seatpost … $170
fi'zi:k Microtex Bar:tape … $15
fi'zi:k Aliante Sport … $80
Upgrading because I was hit by a car … Priceless!
§
Its a small town and word gets around fast, so some of you probably already know about this, but I was hit by a car again last night. I had just left FasTrack and was heading down Castillo on my way to Nite Moves. A big old Suburban turned right into a driveway right on top of me and, well, I had nowhere to go but into it. The situation was exacerbated by a huge lip on the driveway, and when I hit it, that's what finally took me down and I was thrown into the mirror which sliced my neck (superficially).
I'm mostly OK, a sore knee and wrist are the worst of the damage, I iced my knee at Nite Moves, and I'm sure it will be difficult up Old San Marcos today, but it should be fine by the weekend. I got his driver's license, license plate number, and insurance info. He was actually really nice and took me back to FasTrack and offered to pay for everything, and then took me and Kim out to dinner1.
My bike is trashed—The wheels bent, the saddle and bars are askew. Dave is worried that the frame may be damaged so he is going to check it out and let me know. Fortunately he is letting me borrow his bike for now2—I can't let a silly little thing like getting hit by a car keep me off the road for too long! It's interesting that as many times as...
§