I almost didn't go. I've been sick for two weeks since Boulevard (before, actually) and I may have just bagged the whole thing. By mid-week, I felt halfway decent and figured I could get some decent training in, if nothing else. My sights, I should say, were set low.
To make things more interesting, Jeff, who I was carpooling with, had to work late Friday and we decided to make the early morning trek rather than drive late at night on no sleep. My day started with my phone's alarm clock buzzing in my bed. I threw all my crap in my car and hit the road at 3:45. Made good time and pulled into a primo spot at 7am. Most importantly, we hit the porta-potties before the line grew to epic proportions.
I never really bother warming up for this race because it never starts on time, begins with a promenade to the course, followed immediately by a rolling descent. I rolled around a little bit chatting with people, then lined up at the start, and promply waited, and waited, and waited. There was a stream of tractors parading by, so presumably we had to wait for them to get off the course. Finally we started, and the parade out to the course was even slower and more boring than usual. We hit the descent and barely sped up, it seemed. Everyone was on the brakes and I worked my way to the front. I don't really know what I planned...
§
The second day started just outside of Big Pine, and the field was conspicuously smaller. We rolled out nice and easy but it wasn't long before someone attacked and rode away. It was so early, actually, that we were still supposed to be neutral. Nobody seemed to care though, and I certainly wasn't going to chase. When we hit the climb up to Glacier Lodge, Matt and I were in the front setting the pace, which was actually nice because it meant they weren't going any faster. I dialed it into my target power and just held it there for 20 minutes until we hit the hairpin; everyone started going harder and I started slipping back. I held on for a little while but stuck to my own pace and grudgingly accepted watching everyone ride away.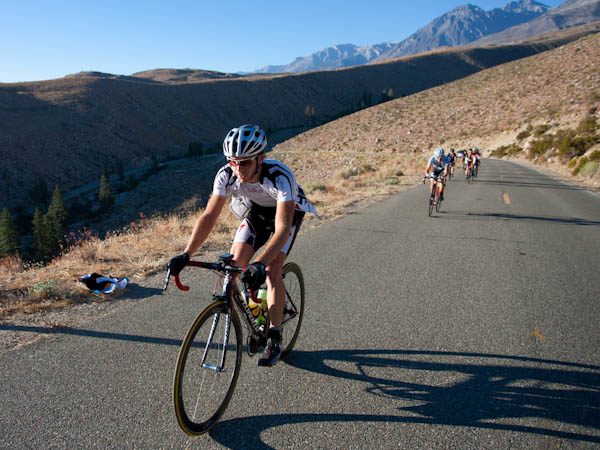 §
The first day started innocent enough. The neutral start was substantially shortened from prior years, but the pace was conversational and nobody attacked all the way up the false flat leading to the little town of Paradise. At the big hairpin that marked the real start of the climb, the grade picked up and so did the pace.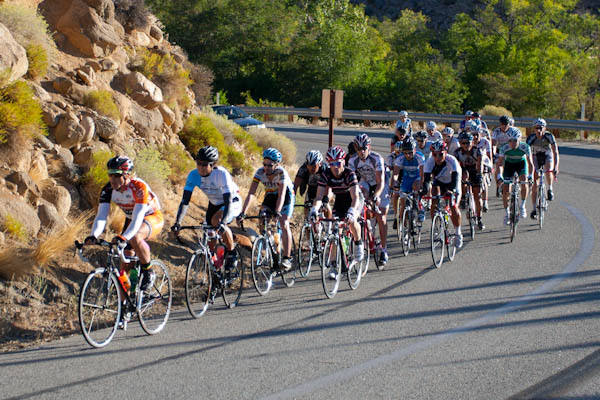 §
There were seven of us in the race; Chester, Steve (a.k.a. "Smitty"), Roger, Derek, Johnnie O, Brandon, and me. It was BRUTAL. Stupid hot. I don't have an exact temp reading but I've heard 100-105 at the start/finish line and 105-110 on the backside of the course. Also windy. It was already hot when I got there before 9 and baking at 10:40 when we started.
Early in the first lap a few riders snuck away and John got in it. It lasted about a lap and a half; they were caught on the climb on the second lap. He sat on the break and the rest of us chilled in the pack. There were several counters that didn't get anywhere, then Santos went, and got up the road and out of sight with another rider from UC Cyclery. The UCC teammates were setting the tempo on the front with several guys from Felt Racing trying to encourage the pack to chase. After a little while of this, Chester realized that this was the move to be in and went to bridge up with another rider. Our whole team went to the front to control the pace with the UCC riders. The Felt Racing guys, upset that they missed the break, spent a lot of time at the front trying to chase but it was futile.
As the laps wore on the field whittled down. A few tried to bridge up to the break and blew up, lots of people got popped on the climb or in the feed zone and at one point there were only about 15 of us left, plus the 4 off the front. I set the pace for much of the 4th lap, driving a nice tempo that nobody wanted to come around and kept strong up the climb popping more people.
Johnny told me going up the climb on the 4th lap that he thought he was nearly done, and after the feed zone he offered me his water. I had gotten my water but Derek told me that Smitty had not. I relayed to Smitty that Johnny was offering, and a few minutes later I saw him again with Johnny's bottle. Later that lap, he was setting tempo up the climb and I was resting in back when he opened up a gap… that got wider… and wider… and eventually he was gone. Near the beginning of the last lap, Roger got away with one of the UCC guys and I didn't even notice. I knew he was gone but thought he must have gotten popped. Oops, should have kept better track of that.
Coming around for the last lap we were all a mess. Nobody wanted to pull into the wind, I think we averaged 17mph and couldn't even catch up to the women 4's who had started right before we came around. We were so wasted none of us could hold a line. One guy even rode off the road. I called us a "rolling pitty party" and hummed "everybody hurts". My arm/shoulder/ribs are still hurting from a crash last week and I knew couldn't really sprint, so I took a few more good pulls up the rollers before the final descent. I wanted to try to separate out any sprinters that were left and possibly set up Derek to win the "the field sprint".
I counted there were only 6 other riders left in our group, inlcuding me. 6! Out of 46 riders that started, there was a break of 4 up the road, 3 in no-man's land, the 6 that sprinted, and me. I finished 14th. Chester finished second behind Santos, Smitty 5th and Roger 6th. Derek was probably around 10th.
§
Stage 1: City Hall Prologue
They say "The 1.7 mi prologue is a mostly flat fast course".
I put up a 4:15. Good for 39 of 57. The fastest cat 3 time was 3:56. Because of the length of the course a good warmup was critical. I got about half an hour of focused warmup on the rollers and probably another 15-20 minutes of riding around.
I got my HR up pretty quick and prepared myself mentally for the climb up to city hall, then drilled it in my invisible aerobars down the straight to the sweeping corner and then down the hill to the turnaround. I regrouped mentally then hit it hard back up the hill. Maybe a bit too hard because I started running out of gas toward the top and rested for a moment. I recovered and then pushed hard down the straight again but the hard efforts were taking their toll and I started easing up again approaching and into the big descent. It was probably the rest I needed though because I hit the bottom corner at 30mph and powered the final 1000 feet to the line with a strong finish.
Ouch
Stage 2: Downtown Criterium
They say "criterium is a fast 0.7 mi downtown circuit on new roads"
I say it was a very hilly criterium with 80 feet of climbing per lap.
The lap starts on a gradual uphill to the first corner, a steep uphill to the second, a gradual descent to the third corner then a steep descent into the last corner and a gentle rise to the finish. The same downhill corner and final straight to the finish as the prologue. This seemed like a course that I would be well suited to, and I actually did fairly well except I was involved in a crash 10 minutes in (but was able to continue after taking a free lap), and my calf started cramping with about 4 laps to go.
I finished 25th of 57 and improved my position in the GC to 27th.
Ouch
Stage 3: Michelob Circuit Race
They say "Sunday Circuit Race is a 5.7 mi scenic course which will test your endurance."
It sucked.
The KOM climb on the third lap [of eight] really hurt. But I made it over the top with the group and lived for another lap. Just. I got popped on the fourth lap and rode the rest mostly alone.
I finished 25th
Ouch
§
Mar 21, 08:42 PM by Steve | Cut
San Dimas Cat 3 Race Report: The suck.
I did ok in the TT on friday, putting in a 16:44 for 49th out of 95 on Glendora Mountain Road. Was hoping for 16:30 and top half of the field, but I got about what I expected.
The road race today is a 7 mile circuit with a long gradual ascent and a rudely steep but relatively short hill. We were doing 8 laps for 56 miles and with a lot of talk of fields ripping apart and 5% time cuts I was getting a little worried.
I got dropped finishing the fifth lap and did the sixth completely solo. Worked with another guy for the last two but finished 10 minutes back from the field, about 2:30 past the time cut. The suck.
§

Photo by Eric Samulli
I drove down to the Tour de Murrieta with John. The crit on Saturday was flat and fast but had a very difficult corner that was the site of many crashes throughout the day, including one early right next to me in the cat 4 field. Later there was another crash into the cones at the start/finish that took out a large part of the field. Of over 90 starters only 56 finished. I lost a lot of position on the last lap when someone dive-bombed the corner, someone else braked, and I was behind it all… and ended up crusing in for 32nd.
The circuit course turned out to be layed out like a 4 mile long crit with only a few tiny ripples, not enough elevation to force a selection. I made a plan to jump from the gun and make people work for it. We lined up, they gave us our instructions, and true to my plan I shot off immediately. I got a pretty good gap immediately and went hard for 2 minutes then settled into a rhythm. I stayed away for about 12 minutes but then they started to reel me back in and as they got close I eased up and reintegrated. about a mile from the start finish for the final lap I was sitting in the top 15 or so when I got caught behind a crash. I didn't go down, but had to stop and run around the melee and spent about 3 minutes chasing back onto the group. I was never able to regain enough position to contest the finish, but I still managed to work my way far enough up for 19th.
§
Wrapping up the stage race weekend, today was the "Callville Bat Crit", a .8 mile loop with a small rise, carved out of the parking lots at the marina. Although there unfortunately were no time bonuses for my win yesterday, I gained a position in the GC due to popping one guy from the field, and was sitting 6th, in the money. I had a few guys within time bonus reach of me, so I had riders to mark in the crit. I didn't go into this weekend with intention of caring about my GC placing, but I wasn't going to let they money slip through my fingers. I didn't care how I did in the crit as long as nobody behind me got any time on me. I was 12 seconds behind 5th and wasn't going to gain any position unless I got in a break with a big gap to the field.
I raced very conservatively, starting near the back of the field (down to just over 30), and waited until about halfway to start gaining position. Around that time, Robert Shaw, sitting second in the GC, rolled off the front pretty much unchallenged. Shane in first had to respond to protect his lead but was not able to bridge and fell back to the pack. Around 3 to go I worked my way up near the front. A few guys launched on the last lap and nearly caught Robert but he got the win and the GC. I...
§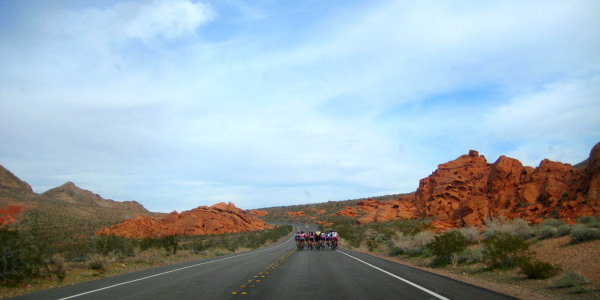 Steve Smith and I drove out to the Southern Nevada Stage Race at Callville Bay. Saturday morning started with a relatively shallow uphill time trial, about 550 feet gained in about 3 1/2 miles. Shallow enough that some used TT bikes but most were on road bikes, including me and Steve. I put in a fairly strong 11:26 in my category, for 7th, despite horrible pacing. Steve put in a mid-field 11:25 in the 3s despite Chester having made him sick.
After a long wait and a lot of sitting around, we begain our respective road races. The course did the TT route up out of the Marina, then ran up to the the highest point 20 miles away, back down the length of Nothshore drive, then 11 miles back to the marina finishing on a slight downhill for the last 1K. It seemed like a course well suited for me with a lot of climbing, but mostly punchy rollers and nothing too sustained.
For whatever reason they combined several fields and we were starting with the Women 1-3 and the Juniors 17-18, for a combined field at least 70. We went off at fairly casual pace but picked up quite a bit, pushed on by the strong morning TT'ers. I actually did a higher normalized power up the start than I did in the TT, and I understand that we shelled several riders before we even got to the main road. My strategy for this race was simple:...
§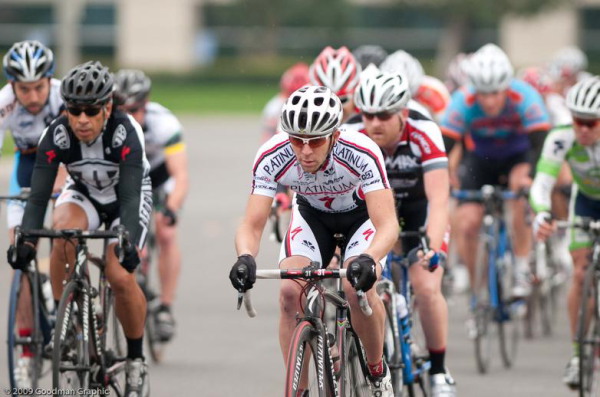 Hanging on in the 30+ 1-4. Photo by John Goodman
For a change of pace from the long race weekends, I took a day trip down to Ontaio with Derek and Walker. Relishing in my new status as a "master" this year, I took the opportunity to do 3 races, for 2 hours of riding around the 1.3 mile, 7 corner course.
The 30+4/5 race was first, and was the sketchiest sketchfest I've ever been in. A lot of people bumping and squeezing into corners. Since I was doing 3 races, my goal for that race was to warm up, sit in, and be safe. Derek's goal was to sit in and move up in the last 3 laps, which he did masterfully, and took 7th, whiile I cruised in for a roughly front third pack finish.
The 30+ 1-4 race was next with a couple of hours in between. This was my "goal race" for the day, although my not-so-lofty goal was to just stay with the field and not get dropped. I didn't know what to expect except that it would probably be fast, and it did not disappoint. It was hard but steady and smooth, not surgey like the 4/5. Steve Smith was in the race also and we both finished in the pack.
The open 4/5 race followed immediately after the 1-4. Coming from the much faster and smoother masters race, it felt like going from the freeway to the side-streets at rush hour, with traffic and mayhem in the corners. I stayed near the front, did a few laps on the front to stretch the legs and tried to follow Derek's wheel into the sprint. But he squeezed through some tight holes and I got knocked off his wheel and wasn't able to get through the crowd before the final corner. I moved up and weaved through the field but only got to 11th. Congrats to Max from UCSB for the win and Derek "the freight train" for second.
§