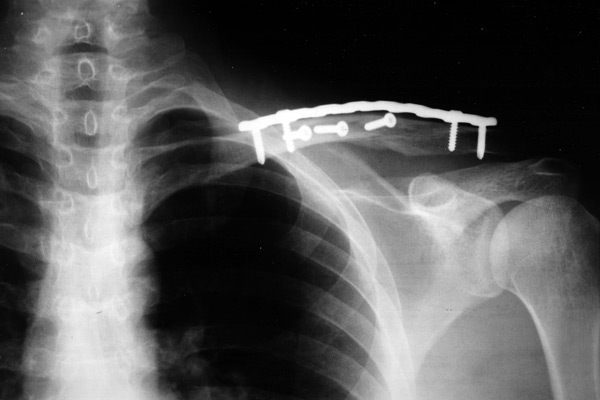 I had my post-op follow up today to get my dressings removed and get an x-ray (pictured above) of the fix. The doc said that the break was unusual, in that it was in a different plane than typically occurs. I don't remember all the technical terms, but basically the break was sideways instead of up-and-down. The three screws in the middle are across the oblique fracture, compressing the two pieces together, and the other screws are holding the plate in place. The good news is that it should all be very stable and I already have a good amount of range of motion back, without much pain. The bad news is that now I can definitely feel that my ribs are hurt too…
§
The "clavicle fixation" surgery went well and I am at home resting. There has been sufficient time for whatever anesthesia they gave me to wear off and there has not been any notable pain. They gave me percocet but I have no intention of taking any unless absolutely necessary. I just don't like the concept of narcotic painkillers. Time will tell if I am an idiot or not, but I would rather be in pain and learn something about myself than wonder if it was really necessary. I found a cool diagram of the procedure
§
There was a present for the bedroom waiting for me when we got back from Sea Otter. I wanted to use it right away, but we were too tired to set it up. We set it up and used it Sunday night. It was great! Monday night too! We'll use it every night!
Yes folks, it is a Pure Sleep retainer.
Now I don't need to kick Steve at night to get him to stop snoring. I don't have to hold his jaw shut if I want to read a book in peace.
Ahhhh can you hear it? The sound of silence.
§
Mar 27, 01:01 PM by Steve | Sick
I've been really tired lately, not able to get enough sleep… woke up this morning after 12 hours of sleep still tired and sore, took my temp and over 100 :( I guess I pushed too hard over the weekend and caught whatever has been going around.
§
§
Kim and I went today to get VO2 and RMR testing. The worst part of the whole proceedure was that we couldn't exercise for 24 hours. Originally the test was scheduled for tomorrow, but it meant that I would miss the LA circuit race, and I wouldn't be able to ride on Saturday. Basically blowing a whole weekend.
I tapered during the week, doing an easy 20 minute climb up OSM on wednesday while chatting the whole way with Bill. Thursday I did a 25 mile tempo ride in the morning and a very easy 22 minute spin up OSM. Friday early morning I did a recovery pace 15 mile loop around Goleta, making sure to finish well over 24 hours before the test.
Resting Metabolic Rate
The test itself was relatively straigtforward. First we sat for the RMR test, with a mask over our face to measure the oxygen and carbon dioxide. The test took 5 minutes, and then we had the results. It was interesting to note that for both of us, we had a small movement that caused a noticeable spike in the data! Also, although it wasn't being recorded, my HR was between 38 and 47 for the duration of the test, and usually in the low 40s.
My VO2 was 249, VCO2 238, for a respiratory quotient (RQ) of 0.96. Kim's VO2 was 239, VCO2 213, for an RQ of 0.89. An RQ of 1.0 represents the value expected for pure...
§
I've had a pretty bad migraine for the last few days. It started on Saturday at Baker to Death Valley while Steve was finishing. It wasn't very hot, but it was very dry. I think I didn't drink enough water, bright sun, travel, fatigue, hormones, etc., and the stars were all aligned correctly to produce a migraine. I started to feel pretty bad on the drive back to Baker, but we stopped at a cafe in Shoshone and got Gardenburgers, and I felt a lot better after that.
I felt ok Sunday, but I started to feel bad again Monday morning. I got some new injections for my headaches, so I tried it out, and it worked quite well. It works by increasing serotonin levels, which is believed to either cause or otherwise be strongly related to migraines. I took it again last night after it came back with a vengance. I read my book in bed while the meds kicked in. Steve was sleeping, and woke up about an hour and a half after I took the meds. He asked how I was doing, and I enthusiastically said 'Great!'
My migraine started to come back again this afternoon, so I picked up my perscription and hung out at Steve's office while it kicked in. My stomach was still not feeling too good, and I told Steve I needed some carbs for my stomach. He said we had plenty of carbs at home, and I said we didn't have...
§
The Steve diet has been working pretty well for me. I've lost a lot of the weight I put on after I had my tumor out & I started getting bad migraines. (Not necessarily related, but who really knows.) I stopped exercising and ate a lot of crap food to appease my migraine stomach. (Did you know that the gut has brain tissue of it's own?)
I'm taking meds to help prevent migraines, but I still get them pretty bad. I'm still not 'race-ready' as I haven't been on the bike for weeks. So I didn't do Mothballs. But I think I'll do Cantua Creek when I go out with Steve.
§
I've decided to go on a diet. It's called the 'Steve Diet'. Everything I read about nutrition for athletes points to eating like Steve does.
No red meat
Minimal dairy
Low saturated fat
No excess sugar
etc.
So, to make the diet simple, I just ask Steve 'Is this ok?'
He was having some 'Phish Food'' ice cream this evening. I asked, 'Is that approved?' He said, 'Not for you 'cause you didn't just ride 80 miles.' Humph! But I talked him into giving me a taste. He doesn't like sleeping on the couch, so he knows when to give in.
§
§