To celebrate Ben's 30th birthday, he wanted a "challenge" and with came up with the idea of a 200+ mile ride around our county, and invited anyone from the team to join in. I ignored it for a while because it doesn't really fit into my training, but decided on a whim at the last moment to do it. I've done it before as a 2-day ride (there is a motel conveniently located near the halfway point in New Cuyama) and always wanted to do it in one day. I figured the chance of any of these guys (or anyone else) being willing to do this again anytime soon was slim to none, and I would always regret it if I missed out.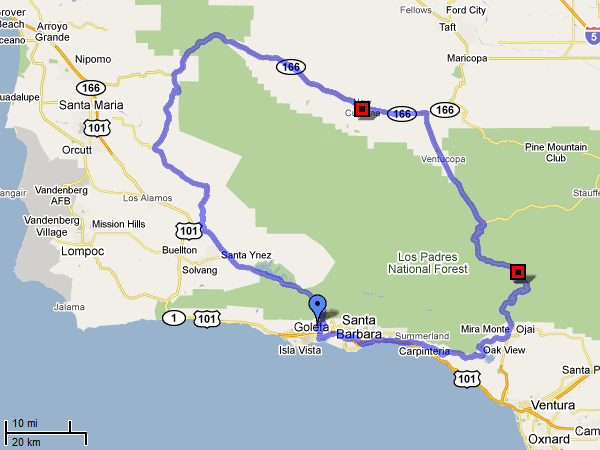 There ended up being 8 of us. Ben ("The Hammer"), Matt, Mark, Zach, Chester, Cookie, DJ, and me. All of these characters were also involved in the Solvang Century I did 2 weeks ago. This was to be a mostly a self-supported ride, except for Mark's wife Gina near the start, and Ben's fiance Katie around the 150 miles mark.
Our 6am sharp start ended up being more like 6:10, but it was ok because it gave more time to get light before we got onto a busy highway that followed an initial 20+ minute climb. It was a beautiful but crisp morning and despite wearing gloves I couldn't feel my fingers. Just before Los Olivos, Cookie got a flat tire which gave me a chance to warm my fingers and get some nice pictures. The idea was to ride at an "ultra conservatively and try to maintain 17-18 mph average". Although we started a little late and the flat tire, we still ended up making good time to Los Olivos, where we topped off and dropped off some of our gear with Gina.
Leaving Los Olivos we rode through the green hills and vineyards of Foxen Canyon. We were a little scattered and just rode easy until we reformed on the climb. Most of the stretch along Foxen is slightly downhill, so we were cruising pretty fast but not working particularly hard. I rode over the new bridge at Tepusquet for the first time, and we noodled up the false flat and climb to the top. It was a great social pace, in stark contrast to the Solvang Century two weeks early. The descent down Tepusquet is one of the best around… pristine smooth pavement, fast sweeping corners, and beautiful views.
The character of the ride changed drastically when we turned east onto the 166 at about mile 60 (note that all mileage is from my perspective, beginning from my house about a mile from the start at OSM), and we found ourselves in a pretty brutal cross/headwind. It was relentless and seemed to constantly shift directions as we wound our way through the canyons. It was very disconcerting to know that we were to be on that road going in that general direction for the next 50 miles. Our lunch stop was 40 miles down the road in New Cuyama, and I think we were all counting down the distance. The social chatting had stopped, but we were all sharing the work equally, each taking a few minutes at the front before rotating off and letting the next person in line have at it.
Our arrival at New Cuyama for lunch was a little behind schedule, but I thought we made pretty good time considering the wind. We raided the market for food and drinks, and made use of the facilities. We all sprawled out on the ground next to the market, which ended up being right in front of the post office. People had to make their way though us to get in. Oops. At one point the waitress from the [now closed] motel diner went to the market and seemed to recognize us, although it was probably just the idea of cyclists as me and Chester were the only ones that had been there.
We didn't want to stay too long as we needed to keep schedule to make it home in daylight, but it seemed nobody was in too much of a hurry to get back out in the winds. We ended up leaving at 1pm, and had the NE winds seemed to have gotten worse for the next 10 miles before making turn towards the south onto the 33. Ironically it became much, much harder in the cross/tail winds. I was pretty low on energy at this point but we were still moving at a good clip and the benefit from the draft was much less. We were echeloned across the road, and starting with me, one by one we started dropping out of the rotation until it seemed like it was just Ben and Matt hammering away. So much for ultra-conservative. heh… 20-some miles of that and we reached the Ozena ranger station, where we had hoped to refil our bottles. The fountain was gone and the spigots didn't work, the station appeared to have been shut down. Cutbacks I guess. A ranger came by and kindly ended up giving us a bottle of Gatorade to share.
We started the climb and I was holding a low tempo effort but it was starting to get difficult. I asked if they would wait at the top, and the answer was "no, we will wait at Katie's car." I wasn't thrilled with the idea of riding that 12 mile stretch solo, but I knew it was mostly downhill and would not be too bad. I tried to hold on for another minute but ultimately decided it was better in the long run to go my own pace and just meet them at the car. DJ and Cookie were still behind me so I figured I could fall back to them if I was totally blown. I was gaining on Zach near the end of the climb and pushed to the 5100ft summit to catch up and have someone to work with. He told me Ben was just ahead so I kept going until the 3 of us were together. At some point on a roller we lost Zach, but Ben and I kept the pace up and we eventually caught up the 3 ahead and the 5 of us cruised to Katie's car while she was rock climbing across the river. Food and water awaited. Cold water, sandwiches, and I bummed some Endurolytes off of Mark.
Cookie decided to pull out at that point, so we were down to 7. We had a few rollers before a 12 mile descent into Ojai that's always a blast to bomb down. There were a few more minor climbs around Lake Casitas after Ojai that I had to go easy on because my legs started to twinge and I knew that if I pushed hard they might cramp. Fortunately they never did and I didn't feel the twinge anymore after the climb.
The ride was supposed to be a casual conservative pace, but we took a little long at some of the stops and were running out of daylight. I still had my lights but some of the guys dropped theirs off at the first stop, and they really turned on the gas when we hit the 192. Even after 180+ miles they cranked up the pace and we averaged nearly as fast (23+ mph) on that stretch as during the sunday "worlds" ride. A few even attacked and went for the usual sprint… The pace never really let up too much and came into town at a brisk but comfortable pace, and parted at State St. Mark, Ben and I turned and the others continued up to the Mesa.
Riding on the bike path towards Goleta with Mark we started talking about food and I got really hungry. When I got home I made a pizza and ate it.
I got home at about 7:35, a while after sunset but before it was very dark. I left home at 5:50 so the whole thing took 13 3/4 hours, door-to-door. All said and done, it was just about 209 miles, with a little over 12,000 feet of climbing. 11 3/4 hours riding time, for a moving speed of 17.7mph. I burned about 7200kJ (roughly equivalent to calories), and consumed maybe 3500.